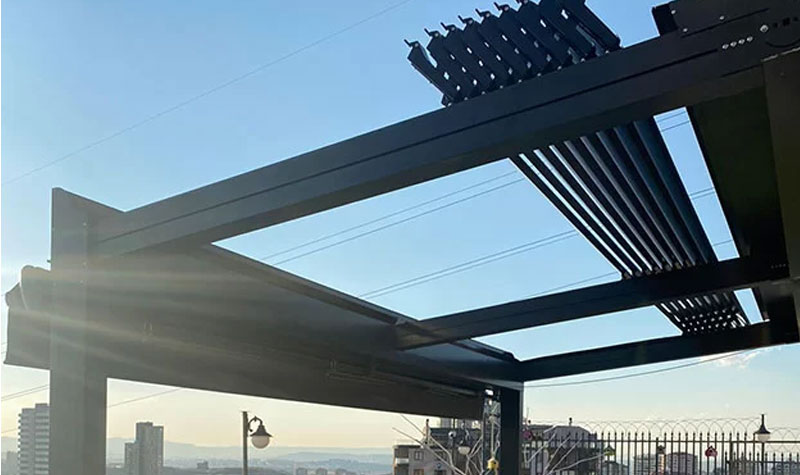 What is Bioclimatic Awning? Where is it used?
Awning and pergola awning systems create today's most advanced air conditioning and shelter areas. People have recently been using bioclimatic awning options in open areas and outdoors to be least affected by weather events. People can use the bioclimatic awning for outdoor ventilation without any problems. Bioclimatic awnings form a retractable system used for the ceiling system. Designed with special metals, the bioclimatic awning does not wear out under the effects of rain, hail, snow and sun.
How Do Bioclimatic Awning Systems Work?
Bioclimatic awning systems have an aluminum design and can be opened at 90 degrees. It can be used in areas such as gazebos, outdoor gardens, winter and summer gardens, cafe and restaurant gardens. Bioclimatic awning prices vary depending on the area it covers. Bioclimatic awning, used outdoors for roof ventilation and shelter, creates a smart awning system that is produced, designed and assembled in Ankara.
Is Bioclimatic Awning Useful?
Bioclimatic awning products constitute the pergola systems used in the outdoor spaces of your living spaces and in the outdoor spaces of your business centers, with the highest quality, visual aura, modern design and smart roof technique. Bioclimatic pergola Ankara products are exhibited in aluminum design and are preferred because they are not materially affected by natural events and are easy to clean. Those who want to design smart roof systems for their buildings have recently preferred the use of bioclimatic awnings. In this way, relief from the effects of the burning sun, rainy weather and snowy weather can be achieved. The prices of extremely useful smart roof systems vary depending on the size of the space to be designed. Pergola roof systems, which create a special space, allow spaces to be ventilated in a much more modern and luxurious way.
Bioclimatic Awning and Smartroof Pergola
A special and spectacular space can be designed with Smartroof Bioclimatic pergola systems that provide ventilation in hotel and restaurant gardens. Smartroof smart roof systems create useful outdoor designs while also enabling the use of a modern structure. This system, which constitutes the most advanced designs of awning and pergola systems, is the most preferred option among pergola systems in terms of providing trouble-free use for years.