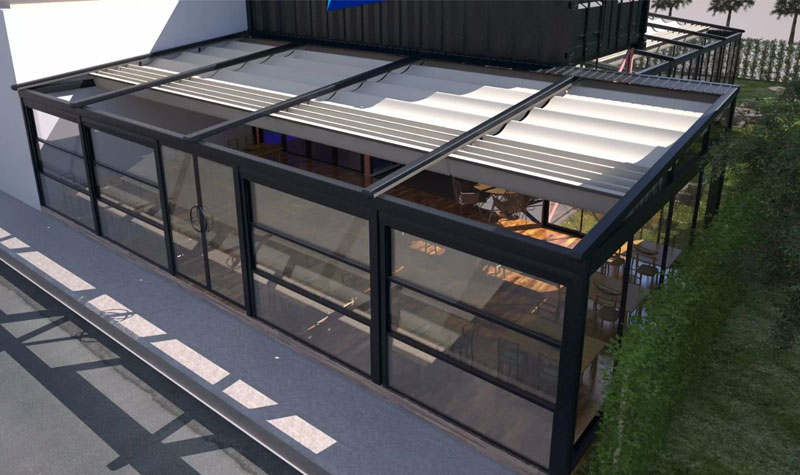 WIND BREAKER
The windbreak system is to remove the negative effects of the wind from the sitting area by reducing the effect of the wind in windy weather and moving the air flow above the sitting level or a human height level. This area does not have to be just a seating area, these windbreak glass systems can also be used for a place where delicate flowers are cared for. This system, which can be frequently preferred in different areas depending on the usage request, has become very popular in recent years and maintains its popular place.
WIND BREAKER PURPOSES OF USE
Wind breaker systems in general; It protects people from the negative effects of the wind in places such as hotels, restaurants, cafes, terraces, residences, hookah cafes and shopping malls, making the pleasure areas more comfortable and habitable. Thanks to windbreak systems, the system is installed so that the air flow is carried above the desired level in windy weather, and the negative effects of the wind continue from above without damaging the space to be protected. In some cafes and restaurants, windbreaks are placed between the tables, not only breaking the wind but also providing private space for people. It appears as a product that has become increasingly popular, especially during the pandemic period, by reducing the contagion effect of Covid 19.
ARE WINDBREAKING COLOR OPTIONS AVAILABLE?
Aluminum and metal parts are painted with powder paint according to orders. In this way, the color you want is offered to you according to your request. Static powder paint is used appropriately on aluminum and metal parts to achieve the color you want. You can change the color of the product as you wish by looking at the color chart of the contracted institution with the color option that suits you.
WINDBREAKING SYSTEM FEATURES
Wind project systems provide protection from the wind at a height of one and a half to two meters above ground level, thanks to the movable glass panel. Moreover; The windbreak system is considered suitable for manual use. Thanks to the effective weight balancing system, height adjustment can be made easily without any difficulty. The windbreaker can be used alone or placed side by side. It acts as a windbreak separator in open areas. These wind-breaking glass systems are increasing their usage areas day by day and appear in different areas.